Soms zeggen beelden meer dan woorden, en dat is op dagen als vandaag niets anders.
Het is niet verwonderlijk dat Twitter en Facebook bulken van tekeningen en steunbetuigingen aan het Belgische volk, of beelden die de impact van de aanslagen op Zaventem en het metrostation Maalbeek goed weten weer te geven. Eén van de beelden die momenteel de ronde doet is deze prent, genomen aan de Grieks-Macedonische grens.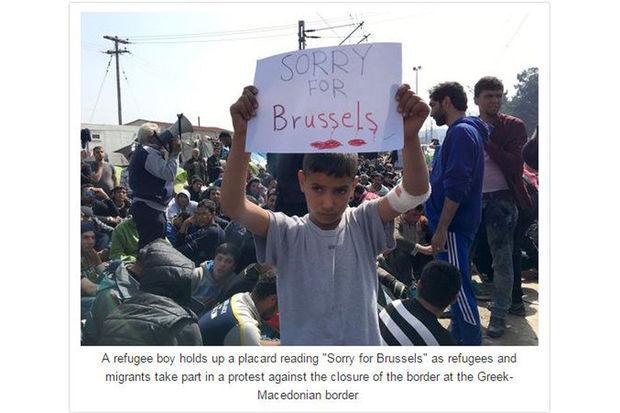 Een jonge vluchteling steekt een papier in de lucht waarop 'Sorry for Brussels' staat. Het is een sterk beeld, net omdat ook hij onrechtstreeks slachtoffer zal worden/zijn van deze aanslagen. Linda Noakes, editor in charge van Reuters, plaatste het beeld online.
Over heel de wereld zijn er duizenden persfotografen die hun lens richten op datgene wat wij misschien liever niet zien, datgene waar men graag een oogje dicht voor doet. Hieronder vier vrouwelijke fotografen die onrecht in beeld brengen.
American Photo Magazine noemde Addarop één van de meest invloedrijke fotografen van de afgelopen 25 jaar. Ze bracht het conflict in het Midden-Oosten in beeld, nam foto's van de burgeroorlog in Zuid-Soedan, bracht moedersterfte in Sierra Leone en gezondheidszorg in Mississippi in beeld. Ze bracht haar memoires uit onder de titel It's What I Do
Arati Kumar-Rao is een environmental photographer en journaliste die zich inzet voor het milieuwelzijn in Zuid-Azië. Haar werk is uniek aangezien ze niet enkel vastlegt hoe klimaatwijzigingen en milieurampen het landschap aantasten, maar ook hoe het leven van de lokale bevolking wordt besmeurd. Ze werd gelauwerd om haar beelden die de olieramp in de mangrovewouden Sundarbans documenteerden.
Stephanie Sinclair is fotojournaliste voor National Geographic en oprichtster van de nonprofit Too Young To Wed, die de rechten van vrouwen en meisjes beschermt en kindhuwelijken een halt wil toeroepen.
Bekijk een uitgebreide lijst met vrouwelijke persfotografen op Mashable